Physical Therapy Salary and Careers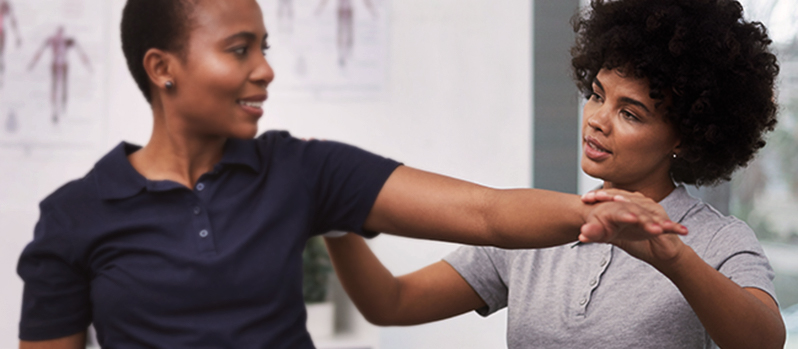 Physical therapists are healthcare professionals who work with patients and clients with movement dysfunction to relieve pain, restore function and optimize quality of life. Physical therapists work with a variety of patients and clients, many specialize in working with individuals in certain age groups or with certain conditions, such as musculoskeletal dysfunction, neurologic dysfunction, or sports-related injuries.
A physical therapist's caseload may include:
An older adult recovering from knee replacement surgery who wants to go for afternoon walks with their grandchildren
A recreational tennis player with a rotator cuff tear who hopes to get back on the court next season
A military veteran who has lost a limb and is learning to use a prosthetic device
A client undergoing chemotherapy whose aerobic capacity is diminished weakened chemotherapy treatment
A young adult who sits at a desk throughout the workday and has developed neck, shoulder or back pain as a result
A ballet dancer with a heavy performance schedule who wants to prevent or address overuse injuries
Becoming a physical therapist takes hard work and dedication but may lead to a lifetime of helping others and making a difference in the world. Learn about education requirements for physical therapists, the settings where they practice, and their earning potential.
How To Become a DPT
Aspiring physical therapists are required to earn a Doctor of Physical Therapy (DPT) degree from an accredited program and become licensed in their state, before they can practice. Admission into a DPT program typically requires a bachelor's degree with extensive prerequisite coursework, including biology, chemistry, physics, anatomy, physiology, psychology, and statistics.
Physical Therapist Education Requirements
Earning a DPT degree is rigorous and takes several years to complete. Students in a DPT program spend many hours taking classes, practicing hands-on skills, and learning from clinical instructors in a variety of practice environments.
By contrast, some individuals earn other advanced academic degrees (e.g. PhD, DSc) that are primarily meant for those who want to conduct research and advance the field's body of knowledge. These degrees do not prepare graduates to become licensed physical therapists but are critical to the science of physical therapy and advancing the profession.
The length of DPT schooling varies by program. Every program must contain a combination of didactic work and clinical experiences. More clinical experiences in more diverse settings are a sign of a strong program that will prepare students to excel after graduation.
After graduating from an accredited program, students are eligible to sit for the national licensure exam for physical therapists. Licensure is necessary for each state in which a physical therapist practices. License renewal is also required and varies by state. In California, for example, PTs are required to renew their license every two years.
Why Become a DPT?
Employment of physical therapists is projected to grow 22 percent from 2018 to 2028, according to the Bureau of Labor Statistics. Some of that demand will come from aging baby boomers who are staying active later in life but also becoming more susceptible to chronic health conditions. Physical therapists are and will continue to be essential practitioners in the rehabilitation and management of individuals with movement dysfunction associated with a variety of chronic conditions such as diabetes and obesity.
While projected job growth may influence an individual's decision to become a physical therapist, other factors, including a strong interest to work with a specific group of people, may lead an individual to pursue a career in physical therapy.
Physical therapists are often inspired by life experiences or a personal passion involving professional sports, healthy aging and neurology, but that's only the beginning, according to Valerie Teglia, faculty member at the USC Division of Biokinesiology and Physical Therapy.
"Students often begin the program knowing they want to work in a specific area," Teglia said. "But they'll come back from their first day [in the clinic] saying, 'I didn't even know physical therapists did this.'"
Diverse clinical educational experiences and job prospects in a growing field provide venues for students to discover a host of unique and meaningful applications of physical therapy.
The progression isn't uncommon; Teglia herself was originally interested in working for a professional football team but discovered a new interest from her clinical education experience where she cared for clients with spinal cord injuries. After earning a neurological clinical specialist certification and practicing in outpatient facilities, hospitals and community rehabilitation centers, she now shares her professional experience as an educator.
Physical Therapy Specializations and Practice Settings
Physical therapists train as generalists. Through their coursework and clinical education experiences, they begin developing their particular areas of interest and passion. After graduation from physical therapy school, physical therapists can pursue specialty training and certification. The American Board of Physical Therapy Specialties recognizes the following physical therapy specialty areas:
Cardiovascular and Pulmonary
Clinical Electrophysiology
Oncology
Women's Health
Geriatrics
Neurology
Orthopedics
Pediatrics
Sports
Wound Management
Physical therapists may also address issues related to pelvic health, industrial health, and home health, or provide wellness and preventative care to individuals in the performing arts, such as ballet and theater.
"There are an abundance of options for specialization. Each one leads therapists to developing high level skills for a particular patient population," said Julie Tilson, USC DPT hybrid pathway program director and professor of clinical physical therapy at the USC Division of Biokinesiology and Physical Therapy.
Physical Therapy Practice Settings
Physical therapists work in a wide variety of practice settings. Private practice and hospital-based outpatient facilities are most common. However, physical therapists are also essential members of care teams in hospitals, rehabilitation facilities, schools, sports teams, and as part of services in people's homes.
According to the BLS, common settings for physical therapists include:
Private practices
Hospitals
Home health care services
Nursing care facilities
Specialty hospitals
Continuing care and retirement facilities
Management, scientific and consulting facilities
School settings
Performing arts companies
Across most physical therapy settings, the core expectations and responsibilities of providers are generally similar, according to Teglia. They include:
Evaluating the client's needs
Identifying the client's strengths, deficits and opportunities of their physical capacity
Designing and implementing a plan of care
Overseeing support staff
Collaborating with an interdisciplinary team
Planning for the client's discharge
"The biggest difference between settings is how often you work with an interdisciplinary team and how closely," Teglia said. When working with pediatric and geriatric clients, it's common for the physical therapist to work closely with the client's primary caregiver or guardian as well."
Physical Therapist Salaries
Physical therapists' starting salaries vary by location and by specialty. The Bureau of Labor Statistics reports that the median annual physical therapist salary in 2019 was $89,440, or $43.00 per hour. The lowest 10 percent earned less than $62,120, while the highest 10 percent earned more than $124,740.[1]
Like starting salaries, DPT average salary is also dependent on a number of factors such as a professional's level of experience and whether or not they work for themselves.
Typically, physical therapists who own their own practices earn a higher PT salary than the median — that also comes with the additional opportunities and responsibilities of owning and running a business, Tilson said.
DPT salary ranges widely by industry too. The table below lists a few industries where physical therapists work and details annual mean salary per industry[2]:
DPT Salaries by State
How much does a DPT make in your state? Find out the median hourly wage in the table below.
| State | Median Hourly Wage (May 2019) | Median Annual Wage |
| --- | --- | --- |
| Alabama | $43.73 | $90,958 |
| Alaska | $47.48 | $98,758 |
| Arizona | $42.71 | $88,837 |
| Arkansas | $40.71 | $84,677 |
| California | $48.49 | $100,859 |
| Colorado | $40.79 | $84,843 |
| Connecticut | $45.73 | $95,118 |
| Delaware | $45.76 | $95,181 |
| District of Columbia | $42.80 | $89,024 |
| Florida | $42.16 | $87,693 |
| Georgia | $41.27 | $85,842 |
| Hawaii | $42.78 | $88,982 |
| Idaho | $38.77 | $80,642 |
| Illinois | $43.97 | $91,458 |
| Indiana | $41.62 | $86,570 |
| Iowa | $38.88 | $80,870 |
| Kansas | $42.77 | $88,962 |
| Kentucky | $41.34 | $85,987 |
| Louisiana | $41.66 | $86,653 |
| Maine | $38.12 | $79,290 |
| Maryland | $44.19 | $91,915 |
| Massachusetts | $43.96 | $91,437 |
| Michigan | $43.11 | $89,669 |
| Minnesota | $40.68 | $84,614 |
| Mississippi | $42.99 | $89,419 |
| Missouri | $40.15 | $83,512 |
| Montana | $38.15 | $79,352 |
| Nebraska | $40.32 | $83,866 |
| Nevada | $47.04 | $97,843 |
| New Hampshire | $40.80 | $84,864 |
| New Jersey | $47.20 | $98,176 |
| New Mexico | $43.36 | $90,189 |
| New York | $42.91 | $89,253 |
| North Carolina | $41.91 | $87,173 |
| North Dakota | $38.53 | $80,142 |
| Ohio | $42.19 | $87,755 |
| Oklahoma | $43.88 | $91,270 |
| Oregon | $41.91 | $87,173 |
| Pennsylvania | $41.56 | $86,445 |
| Rhode Island | $40.39 | $84,011 |
| South Carolina | $42.17 | $87,714 |
| South Dakota | $37.11 | $77,189 |
| Tennessee | $41.68 | $86,694 |
| Texas | $42.89 | $89,211 |
| Utah | $39.08 | $81,286 |
| Vermont | $37.01 | $76,981 |
| Virginia | $44.13 | $91,790 |
| Washington | $42.90 | $89,232 |
| West Virginia | $42.06 | $87,485 |
| Wisconsin | $42.40 | $88,192 |
| Wyoming | $43.79 | $91,083 |
1Annual median wages have been calculated by multiplying the hourly median wage (provided by the BLS) by a year-round, full-time hours figure of 2,080 hours.
Source: The Bureau of Labor Statistics
Taking Your Degree to the Next Level
Beyond practicing as a physical therapist, experienced providers may want to bring their skills to settings outside clinic walls. "There are so many opportunities to be entrepreneurial," Teglia said.
Practice ownership: Opening a private practice is an opportunity to customize an interdisciplinary team on a smaller scale than a hospital.
Consulting: Working in business or public health settings, physical therapists can use their knowledge to consult on practice design, billing, engineering, and occupational health.
Teaching: Experienced physical therapists can be educators at the high school, college or graduate level, including as educators in physical therapist education programs.
Becoming a physical therapist includes a commitment to life-long learning, Tilson said. Development of skills for specialty and niche practices can be gained through residencies, fellowships, and continuing education courses and programs.
[1] Occupational Employment and Wages, Bureau of Labor Statistics, Last updated April 10, 2020. www.bls.gov/oes/2019/may/oes291123.htm
[2] Occupational Employment Statistics, Bureau of Labor Statistics, Last updated March 31, 2020. www.bls.gov/oes/current/oes291123.htm#st
Citation for this content: USC Division of Biokinesiology and Physical Therapy
Last updated September 2020