Why Become a Physical Therapist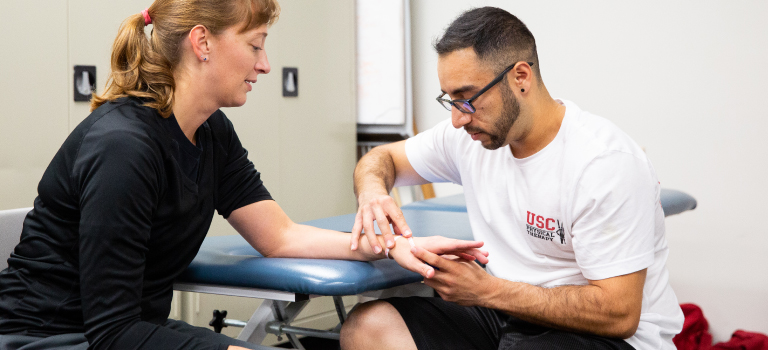 While the first professional physical therapist association was formed in 1921, it was during the 1940s and '50s that a nationwide polio epidemic sparked greater demand for physical therapists. Nearly 80 years later, physical therapy is ranked by U.S. News & World Report as one of the best jobs in the health care sector. If you are passionate about helping people rehabilitate from an injury or manage the physical challenges of a health condition, earning a Doctor of Physical Therapy (DPT) degree, and pursuing a career as a physical therapist might be the vocational path for you.
What does a physical therapist do?
Physical Therapists are recognized as experts in the evaluation and treatment of movement dysfunction. Based on their distinctive knowledge and training, physical therapists provide a unique perspective on purposeful, precise, and efficient movement across the lifespan and use movement-related interventions to optimize functional capacity and performance.
Physical therapists work with patients across the lifespan who have chronic conditions, illnesses and injuries, providing rehabilitation and treatment to prevent injury, and optimize their quality of life. They also help patients improve flexibility and strength so they can maintain independent and active lifestyles.
A DPT degree, such as the one offered through the USC Division of Biokinesiology and Physical Therapy, will prepare a physical therapy professional to work with individuals of all ages who have a variety of conditions such as traumatic injuries, neurological disorders, and job-related injuries. Physical therapists may work in a general practice or in a specialty setting (e.g., sports, pediatrics, geriatrics, hospital care, or wellness and prevention).
Responsibilities of a physical therapist include but are not limited to:
Working with other health care professionals to provide team-based comprehensive care.
Assessing and diagnosing a patient's ability to function and move to engage in daily life.
Working with patients to develop a plan of care that includes goals for long term success.
Providing treatment such as patient education, therapeutic exercise, hands-on therapy, and use of special equipment to help patients optimize their mobility, ease pain, prevent further injury, and encourage overall health and wellness.
Educating patients and their families about what to expect from the recovery process and how to cope with challenges along the path to healing.
Steps to becoming a physical therapist
To become a physical therapist in the United States, you need to earn a Doctor of Physical Therapy (DPT) degree from a program accredited by the Commission on Accreditation in Physical Therapy Education (CAPTE), and pass a state licensure exam after graduation. Most DPT programs have requirements such as:
Earning a bachelor's degree.
Having an undergraduate cumulative GPA of 3.0 or higher (for competitive programs).
Taking the GRE or having taken the GRE within the past five years.
Participating in paid or volunteer experiences in a variety of physical therapy settings (e.g., as a physical therapy aide).
Completing prerequisite coursework (e.g. in anatomy, physiology, chemistry, and physics) along with the requisite lab credits required by the DPT programs you are applying to.
DPT programs are typically full-time, three-year programs and require students to take courses including anatomy, physiology, movement science, exercise physiology, clinical patient management, evidence-based practice, and professional ethics. Students also spend extensive hours in clinical experiences under the supervision of physical therapists in their community. When exploring your options, consider the number of clinical hours required in the program. The more clinical hours required, the more hands-on experience you will gain. Additionally, if you wish to specialize — in orthopedics or pediatrics, for example — you may consider applying for a residency or fellowship after graduation. The American Board of Physical Therapy Specialties awards certifications recognizing specialization after graduation.
DPT program graduates are eligible to sit for licensure upon graduation in the state they wish to practice and may be required to take continuing education to maintain their license.
Why get a doctorate in physical therapy?
A DPT degree is required to sit for licensure as a physical therapist. There are many reasons to become a physical therapist:
Baby boomers need DPTs. There will be a greater demand for physical therapists who can assist older patients in optimizing their quality of life by helping them to manage the physical challenges and illnesses that can come with age. According to the Bureau of Labor Statistics, employment for physical therapists is projected to grow 22%, which is much faster than the average for other occupations.
Technological advances have increased demand for DPTs. The demand for rehabilitation care is increasing as new technologies lead to greater survival among trauma patients and newborns with health complications.
You can choose the setting that best suits your interests. Physical therapists have the unique opportunity to work in a variety of settings, including but not limited to schools, hospitals, research settings, collegiate, or professional sports organizations, nursing homes, private practices, large health care organizations, and universities. Physical therapists also work with diverse individuals including older adults, injured workers, athletes, disabled children and adults, and the general population.
Benefits of being a physical therapist
In addition to ranking #20 on U.S. News & World Report's "100 Best Jobs" list for 2019, a career in physical therapy career can be personally rewarding.
"People go into this field because they want to help people get healthy and live better," said Jody Frost, PT, DPT, PhD, a spokesperson for the American Physical Therapy Association (APTA), in an AARP article about pursuing a career change into the field of physical therapy. She explained that, unlike other health professions where patient interactions tend to be limited to brief visits, physical therapists get to work with people for weeks and sometimes months, developing real relationships.
Additionally, physical therapists have the opportunity to work autonomously. The APTA indicates that more than 21% of physical therapists are owners of or partners in their practice.
Where do DPTs work?
Physical therapists held approximately 247,700 jobs in 2018. In 2018, they earned an average salary of $87,930, according to the U.S. Bureau of Labor Statistics (BLS).
Physical therapists work in a variety of environments:
Offices with groups of therapists including physical, occupational, and speech therapists (33%)
Hospitals, including state, local, and private (26%)
Home health care services (10%)
Nursing and residential care facilities (7 %)
As previously mentioned, employment for physical therapists is projected to grow 22%. Job prospects are expected to be especially good in acute care hospitals, skilled nursing facilities and orthopedic settings, where many geriatric patients seek care. Physical therapists can work toward supervisory and management roles, participate in academic research, teach, and open their own private practices.
Citation for this content: USC Division of Biokinesiology and Physical Therapy
Last updated February 2020