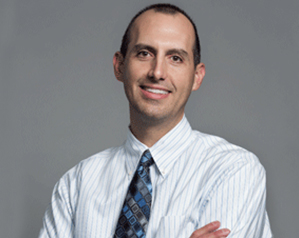 Daniel Kirages, PT, DPT, OCS, FAAOMPT
Division of Biokinesiology and Physical Therapy
Associate Professor of Clinical Physical Therapy
Dr. Kirages is an Associate Professor of Clinical Physical Therapy. He has a hybrid schedule of both clinical practice and academic teaching. Within the private practice of the Division, USC Physical Therapy Associates, he attends to a diversified patient load, addressing orthopedic and pelvic health disorders. While in the classroom, he serves as course coordinator for "Basics of Patient Management" and as a primary instructor for "Clinical Management of Musculoskeletal Dysfunction" within the first year of the DPT program.
Dr. Kirages is a board-certified orthopaedic clinical specialist (OCS) as well as a Fellow of the American Academy of Orthopaedic Manual Physical Therapists (FAAOMPT). He is significantly involved with advanced professional education through his teaching and clinical mentorship within the USC Residency in Orthopedic Physical Therapy. He is also the primary faculty member of the USC Orthopedic Boot Camp Series, which is a comprehensive series of seminars that enables the participant to attain high-level skills in examination and treatment procedures for common musculoskeletal conditions.
Dr. Kirages also researches topics associated with pelvic health and teaches continuing education courses or gives lectures at a variety of academic institutions and healthcare facilities nationally and internationally.
Education
Kaiser Permanente Los Angeles Orthopedic Manual Therapy Fellowship, 2002
University of Southern California, Los Angeles, Doctor of Physical Therapy, 1998
University of Southern California, Los Angeles, BS in Exercise Science, 1994
To learn more about Dr. Kirages' work with USC, please visit this page.