Leading Innovation in Physical Therapy
USC Division of Biokinesiology and Physical Therapy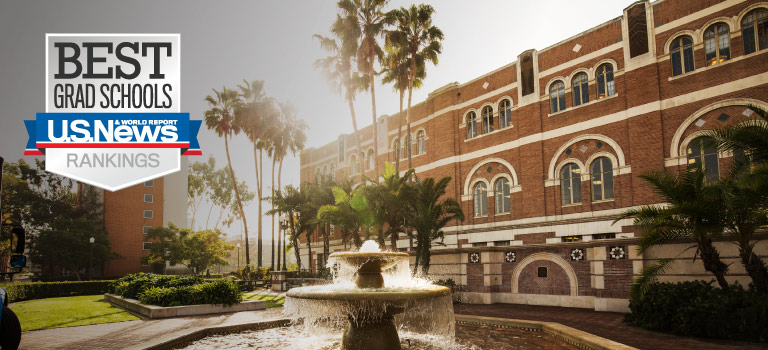 Graduate PT school by U.S. News & World Report1
Years leading physical therapy innovation
New academic offerings in the last three years

The Doctor of Physical Therapy program has been accredited by the Commission on Accreditation in Physical Therapy Education (CAPTE) since 1946.
Educating Tomorrow's Physical Therapy Leaders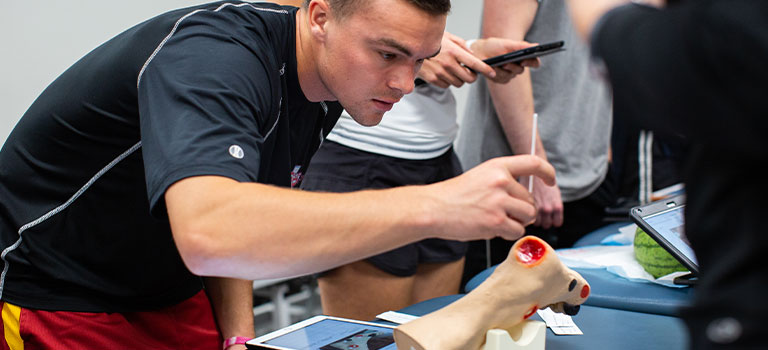 The Division is developing innovative solutions that leverage our strengths to transform how we prepare the next generation of physical therapy leaders.
In the last three years, USC has introduced two new academic offerings that prepare students to enter an ever-evolving field.
A Hybrid DPT Model
DPT@USC, our hybrid Doctor of Physical Therapy (DPT) program, enables aspiring physical therapists from across the country to earn their doctorate through three years of rigorous, full-time study.
The newly established program acts as a model for other programs throughout the nation. By matching the caliber of its on-campus equivalent in a hybrid format that leverages advances in online education, DPT@USC is establishing itself as a leader in the health care landscape and shaping physical therapy education for the next generation of physical therapy leaders across the country.
"You cannot learn physical therapy exclusively online. This is a hybrid program, combining the best of online learning opportunities with immersions on campus. These two together are what make this a very powerful program."
—Dr. Julie Tilson, Hybrid DPT Program Director
Biokinesiology Master's With a Sports Science Focus
Recent advancements in technology have made sports science a popular field within physical therapy. USC has responded by introducing a master's degree in biokinesiology with a sports science emphasis.
By learning how to use technology and data to improve athletic performance and reduce injuries, students are eminently prepared for careers in the worlds of technology, professional and intercollegiate sports and applied training/rehabilitation.
To gain applied experience in the field, students must complete an internship. The Division's relationships with tech companies and collegiate and professional sports teams in Los Angeles give USC students the opportunity to develop strong professional connections before graduation.
Fostering a Culture of Innovation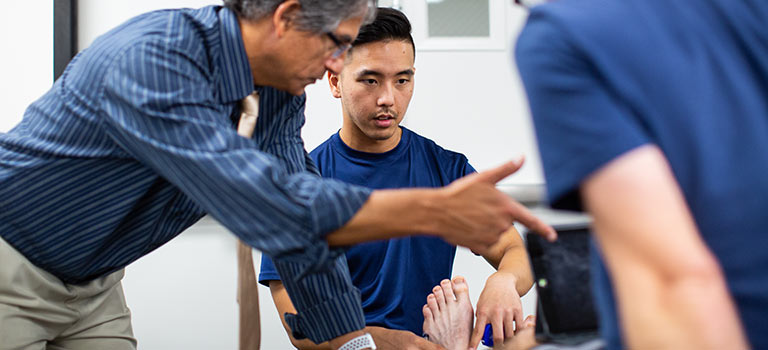 At the USC Division of Biokinesiology and Physical Therapy, we are determined to stay ahead of the curve. Our strength is derived from the USC community — our faculty, our students and our partners.
Expert Faculty
Our faculty are respected clinicians and researchers who are passionate about educating the next generation of physical therapists. They are determined to continuously support aspiring physical therapists throughout their education and after graduation.
Faculty Spotlight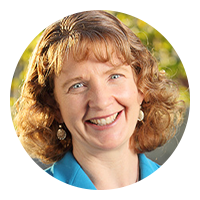 Julie Tilson, PT, DPT, MS, NCS
Along with being the hybrid DPT program director, Dr. Tilson teaches Evidence Based Practice and vestibular rehabilitation not only to USC DPT students, but also to clinicians internationally. Her curricula emphasize active learning and the integration of scientific research, clinical expertise and patient perspectives into clinical decision-making.
A board-certified specialist in neurologic physical therapy, she co-authored Evidence Based Physical Therapy (FA Davis, 2012) and has authored over 30 additional peer-reviewed publications. To learn more about Dr. Tilson, visit her faculty profile page here.
Research
Our innovation in research is driven by interdisciplinary collaboration within the Division, across campus and throughout our network of other institutions.
Notable Research Initiatives
PhD candidate Rini Varghese has been awarded an NIH grant, designed to enable pre-doctoral students to obtain mentored research training, for her work studying stroke rehabilitation. She will continue her research working with USC professor Dr. Carolee Weinstein MS '84, among others. Learn more. External link
A multidisciplinary team of Trojan researchers has been awarded a grant from the USC Collaboration Fund to research and develop virtual reality interventions in the health care space. Composed of members of six USC schools and nine departments — including occupational therapy, biokinesiology, computer science and engineering — they strive to innovate in the VR space. Learn more.
Barbara Sargent, assistant professor of clinical physical therapy, is currently leading a research effort to develop methods of detecting cerebral palsy in very early infancy. To support this research, she has received grants from the Academy of Pediatric Physical Therapy and the Foundation for Physical Therapy Research. Learn more.
A Focus on Diversity
"Our patients — whatever their color, culture or belief system — are not
their diagnoses. They are people with diagnoses."
—Jessica Nguyen, President of PTMLA
The Division promotes diversity and actively works to increase representation in the physical therapy field.
Physical Therapy Multicultural Leadership Alliance
Since 2004, the Physical Therapy Multicultural Leadership Alliance (PTMLA) has educated the local community about physical therapy and promoted minority representation in the field. The student-led organization engages underserved communities through events and activities to spread awareness of the profession.
Partnership with Xavier University of Louisiana
To promote diversity in the physical therapy profession, the Division has partnered with Xavier University of Louisiana, one of the nation's top historically black colleges. This partnership enables XULA students to complete their prerequisite courses, gain valuable hands-on experiences and develop mentoring relationships with Trojan faculty.
USC Division of Biokinesiology and Physical Therapy Student Outcomes2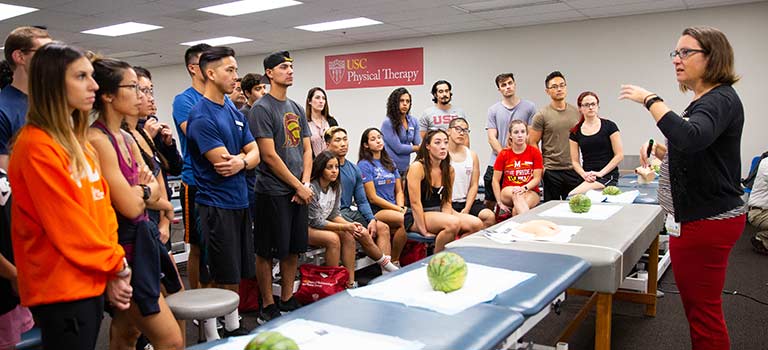 of graduates who sought employment have been employed as physical therapists within one year of graduation.
of students in the class of 2016 and class of 2017 graduated on time.
of students in the class of 2016 and class of 2017 passed the National Physical Therapy Examination on the first try.
Stay Connected to the USC Division of Biokinesiology and Physical Therapy