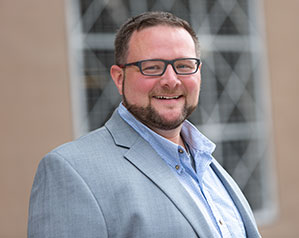 Eric Robertson, PT, DPT, OCS, FAAOMPT
Division of Biokinesiology and Physical Therapy
Adjunct Associate Professor of Clinical Physical Therapy
Dr. Robertson earned a Bachelor of Science in Physical Therapy from Quinnipiac University and a Doctor of Physical Therapy (DPT) from Boston University. He currently maintains a physical therapy license in California, Texas, South Carolina and Georgia; serves as a professor at the USC Division of Biokinesiology and Physical Therapy; and provides consulting services for Physera.com. Dr. Robertson is also part of the DPT@USC development team.
In addition to his work at USC, Dr. Robertson is the Director of Graduate Physical Therapy Education for Kaiser Permanente in Northern California, where he directs residency and fellowship education programs. Dr. Robertson serves as a spokesperson for the American Physical Therapy Association (APTA) on issues of low back pain and musculoskeletalcareand is on the executive board for the American Academy of Orthopaedic Manual Physical Therapists (AAOMPT). He resides in Oakland, California.
Education
Evidence in Motion, Orthopedic Manual Physical Therapy Fellowship, 2010
Boston University, Doctor of Physical Therapy, 2005
Quinnipiac University, BS in Physical Therapy, 1999
To learn more about Dr. Robertson's work with USC, please visit this page.